ST. FRANCIS OF ASSISI

G.K. CHESTERTON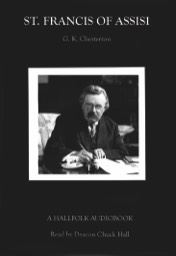 Gilbert Keith Chesterton wrote this appreciation of St. Francis of Assisi in 1923, shortly after he was received into the Roman Catholic Church. It remains one of his most accessible and popular works. Chesterton was an admirer of the Little Poor Man for many years, and his affection for Francis paints every page of this work with the passion of the great saint himself. Chesterton makes clear that the little man from Assisi "never seemed a stranger." Take a trip through this marvelous work, and discover why!
Ten chapters on four compact disks.

Narrated by Deacon Chuck Hall



Also available via download from CD Baby!